About Kuk Sool Won
A Comprehensive Martial Arts System
Kuk Sool Won is a systematic study of all of the traditional fighting arts, which together comprise the martial arts history of Korea. As such, Kuk Sool Won is extremely well organised and seeks to explore all aspects of the traditionarl Korean martial arts. As a martial arts system, Kuk Sool Won covers the entire spectrum of established Asian fighting arts and body conditioning techniques, as well as mental development and traditional weapons training. The following list includes some, but by no means all, of the elements of Kuk Sool Won.
Body Conditioning
Overall stretching and flexibility training.
Cardiovascular conditioning.
Muscle toning.
Ligament and tendon strengthening.
Joint flexibility and bone conditioning.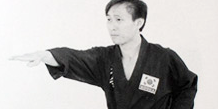 Hand Techniques
Closed and open hand striking methods: including palm, fist, wrist, finger striking, and specialized hand training techniques.
Pressure point striking.
Striking with arm and shoulder.
Blocking and parrying.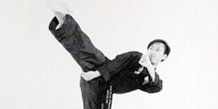 Leg Techniques
Fundamental kicks.
Spinning kicks.
Jumping kicks.
Combination kicks.
Double leg kicks.
Pressure point kicking.
Specialty kicking.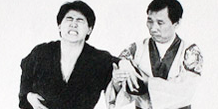 Joint-Locking Techniques
Restraining methods.
Joint breaking techniques.
Combination joint locking.
Control and redirection techniques.
Arresting and pain-compliance techniques.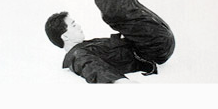 Falling Techniques & Acrobatics
Body conditioning and agility techniques.
Body protection techniques.
Acrobatics for defense and offense.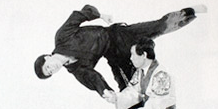 Throwing & Grappling
Body throws.
Projection throws.
Leg throws.
Pressure point grappling.
Grappling defense.
Wrestling techniques.
Ground fighting.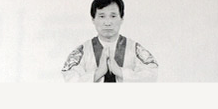 Meditation and breathing techniques
Various breath control techniques.
Meditation and breathing postures.
Concentration techniques.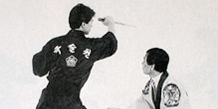 Traditional Korean Weapons
Sword: short & long, single or double, straight or inverted.
Staff: short, middle & long, single or double.
Jointed Staff (flail): double or triple.
Spear.
Cane.
Rope.
Fan.
Bow & Arrow.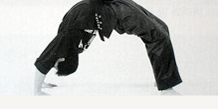 Martial Art Healing Methods
Acupressure.
Acupuncture.
Internal energy systems.
Herbal medicine.
MASTER NICK REEVE
5th Dahn Black Belt
School Owner

.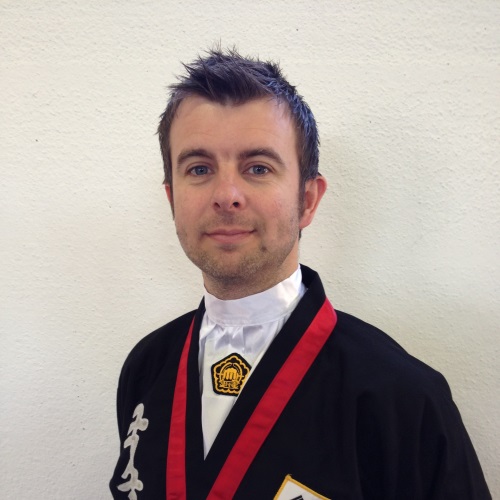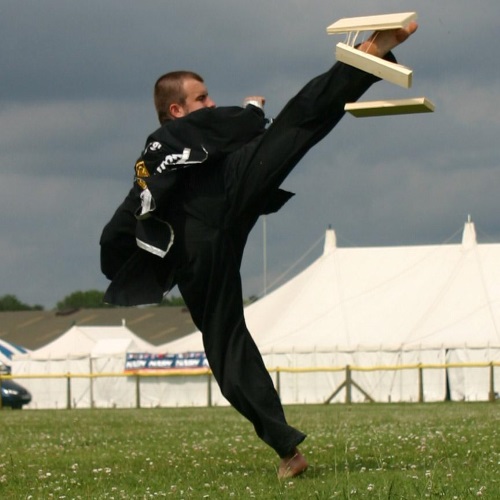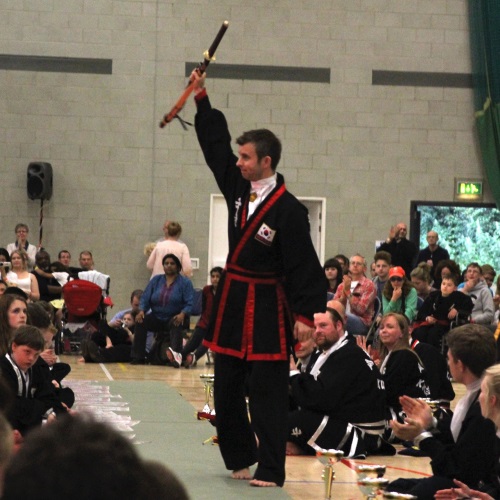 Master Nick Reeve is the head instructor and school owner of Kuk Sool Won Central London and has been training for over 30 years. His passion for Kuk Sool Won is evident in his teaching style and he hopes that his enthusiasm rubs off on students of his classes.
After seeing a demonstration of Kuk Sool Won at his local school fete in 1988, Master Nick Reeve joined the Mildenhall club under Master Steve Isaacson and has been hooked ever since. As quite a shy 12 year old, Kuk Sool Won initially gave Nick some much needed confidence and showed him that he could excel despite his diminutive height. Nick managed to continue his training through the 'tricky teenage years' where so many of his training partners quit and gradually worked his way up the belts. In 1994, Nick was awarded his 1st Degree Black Belt in Norwich by Kuk Sool Won founder and Grandmaster In Hyuk Suh and from that day he realised that he had only just begun his training.
Nick's progression to Master has involved developing expertise in all aspects of Kuk Sool Won, however he excels in kicking, forms, weapons and acrobatics. Training aside, Kuk Sool Won has given Nick so much including the opportunity to travel the world and meet lots of great people.
Throughout the years, Nick has been an avid competitor and has competed in every British and European WKSA tournament from their inception in 1991 up until his Master promotion in 2012. Along the way he has won many medals including a gold in forms in Korea, 2005 and being the first person to be awarded under black belt grand champion in the UK. The elusive title of grand champion at black belt level is something that Master Nick never achieved and proved to be a great motivator for both competing and training in general.
In recent years, Nick has become more involved 'behind the scenes' in World Kuk Sool Association (WKSA) UK (a role that he enjoys very much) and can usually be found behind the computer at tournaments. He is also a member of the national Seminar Tour Team which is something that he feels extremely honoured by.
Nick moved to London in 2002 and in 2006 he opened this club which has gone from strength to strength with many students attaining the black belt level and some even the title of grand champion. He hopes he can continue to share his enthusiasm for Kuk Sool Won with many new students in the years to come.
Testimonials
Amazing instructor. You won't find better!

—Graeme Temple, Kirkcaldy Kuk Sool Won

Fantastic instructor, and a really welcoming group of students in the class. Always a pleasure to visit

—Aaden Black, Rutherglen Kuk Sool Won

Probably the best all-round kuk sool won master in the U.K.

—Matt Boniwell, Cork Kuk Sool Won

Having been lucky enough to experience training with, and learning from some amazing martial artists of many different styles, throughout my life I would have no hesitation in recommending Master Nick. A truly inspirational Martial Artist who I feel lucky to have spent time on the mat with. Infectious personality and genuine knowledge make Nick a complete Martial Arts package.

—Mark Leonard

Master Nick is an amazing martial artist and an inspirational instructor!

—Andy Lapham, Sevenoaks Kuk Sool Won
Read more testimonials here
Contact Us
Please feel free to call Nick anytime at the following:
Mondays (20:00-21:30)
Adults / Beginners & Advanced
Oasis Sports Centre
32 Endell Street
WC2H 9AG
Thursdays (19:30-21:00)
Adults / Beginners & Advanced
Pancras Square Leisure Centre
5 Pancras Square
N1C 4AG
Sundays* (10:15-12:15)
Adults / Advanced
Oasis Sports Centre
32 Endell Street
WC2H 9AG
* Please check with Master Nick for dates.